Among PCB fabricators, the RTX-113 is the most widely used Glenbrook system.
Since the company's founding, Glenbrook's real-time X-ray inspection systems have enabled fabricators of multi-layer PCBs to enhance product quality and control costs.
Inspection is performed following lamination, to determine the presence and degree of inner layer shifts. At the onset of either conventional or small hole drilling, inspection is used to qualify hole-pad alignment. In addition to enhancing product quality, X-ray inspection enables users to control costs by eliminating defective boards early in the production process.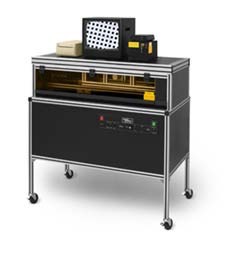 For Small Hole Drilling: RTX 113 Micro 30™
The new RTX-113 Micro 30 X-ray Inspection System, with enormous capability, is compact enough to fit in a lab or on the production floor. The system employs a pc controlled 40 to 80 kV x-ray tube with 30 micron focal spot and our patented XRTV x-ray camera technology now enhanced with Crystal X Imaging for higher contrast. This combination advances our RTX Series for higher resolution and magnification requirements allowing up to 100x geometric and 225x optical magnification.
Applications include Small Hole Drilling of PC Boards, BGA's, Micro BGA's, QFN, LED, Medical Devices to name a few. The system maintains the extraordinary reliability that our more than 2,000 customers in 50 countries expect from their Glenbrook x-ray machines.
GTI-3000 Drill Offset Tool
To resolve the challenge of verifying drilling registration for small holes, Glenbrook's small-hole drilling package allows users to inspect both standard and small holes with speed, accuracy and reliability. All the detail required to inspect this advanced technology, as well as standard holes, may be observed with a full one-inch diameter field of view.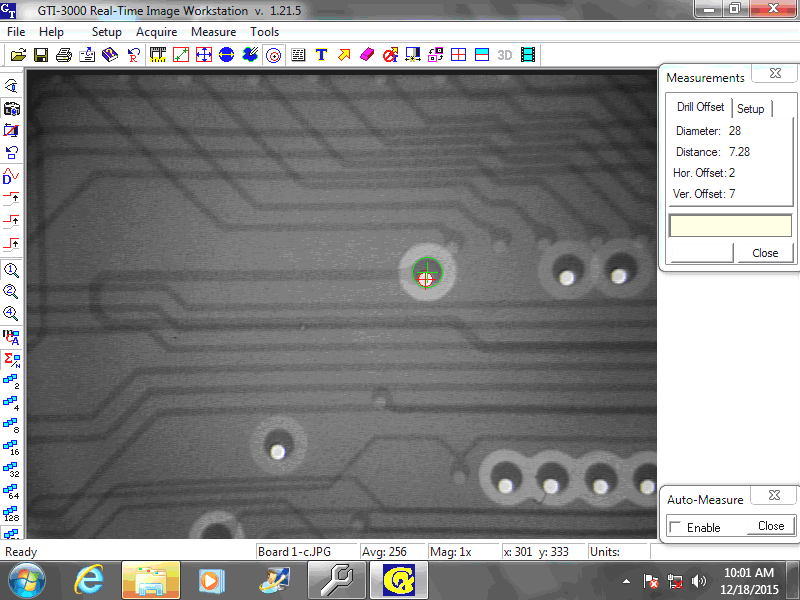 The small hole drilling package is available on Glenbrook's RTX Series real-time X-ray inspection systems, and may be retrofitted to existing units as well. Elements of the package include:
GTI-3000 PCB Analysis: The GTI-3000 Computer Image Processor is designed for PC Board fabrication. The software permits X-Y offset measurements of drilled holes and pads as well as linear distances and hole diameters. Images can be stored and transmitted as jpg files. Additional features include: frame averaging (for image clarity), manual and automatic contrast adjustment.