X-ray Inspection Systems Advancing Medical Device Development and Reliability
Glenbrook X-ray Technology can protect against Medical Device Recalls. We can Customize a System to meet your requirements.
Our X-ray inspection systems are ideal for:
Catheters
Packaged Transcatheter Devices
Biopsy Needles
Drug Delivery Devices
Heart Valves
Pacemakers
Vena Cava Filters
Biopsy Markers
Surgical Staples
Stents
Robotic Surgical Arms
Microelectronic Implants
Contact us to schedule a live x-ray demo of your product.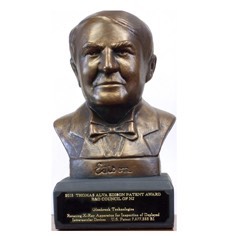 2018 Thomas Alva Edison Patent Award
Glenbrook Technologies received the 2018 Thomas Alva Edison Patent Award for "Rotating X-ray Apparatus for Inspection of Deployed Intravascular Device". The RoteX was designed for invitro testing of Vena Cava Filters.
Our X-ray systems have been used by the FDA for medical device inspection and laboratories worldwide.