Previously Owned Glenbrook X-Ray Systems
Refurbished / Demo / Used X-Ray Systems
Systems other than those shown below may also be available.
JewelBox-70T
The JewelBox-70T delivers superior image quality with excellent resolution and sensitivity for laboratory and failure analysis applications. The system's 10-micron MicroTech™ x-ray source provides magnification from 7X to 2000X, with resolution of 100 line pairs/mm.
Includes
Up to 1,200x magnification
X-Y-Z movement
360 degree rotation
45 degree tilt
6 month warranty
Cart
Optional image processor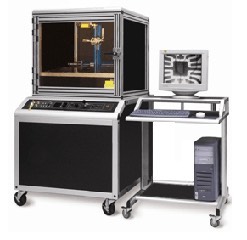 RTX-113
The RTX-113 is designed for heavy production environments where X-ray is used to inspect PCBs and assembled PCBs containing advanced components such as BGAs, uBGAs and Flip Chips.The system is very versatile and features Glenbrook's patented, award-winning X-ray camera technology that generates high-resolution, high-sensitivity images, revealing defects as small as 0.001 inch with a full one inch diameter field of view. The RTX-113 provides affordable real-time X-ray imaging, reliable operation and easy servicing.
Includes
Zoom lens camera with 4x to 40x magnification
RTVA video averager
12″ black and white monitor
Video Printer for hard copy
A 90 day warranty
Optional extended parts warranty