Detecting Counterfeit Electronic Components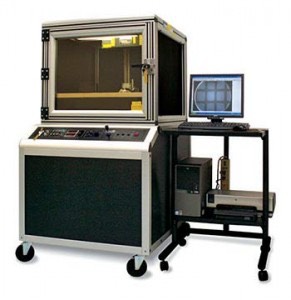 X-ray: on the front line of the battle against counterfeit components
Going through security screening may be a necessary nuisance for airline travelers, but it's nothing compared to what electronic components have to endure before SMT Corporation's quality control department accepts them at its Sandy Hook, Connecticut, distribution facility. SMT's emphasis on counterfeit detection and overall product quality begins when a component enters its 72,000-square-foot, ISO-9000, ISO-14001, dehumidified and ESD-compliant facility (www.smtcorp.com).
The first step for incoming components is documents inspection — not just from the supplier, but from the supplier's supplier as well, where possible. The next step is a visual evaluation starting with the packaging, and then the components themselves, that may involve full microscopy inspection.
The parts may be tested for RoHS compliance using x-ray fluorescence (XRF) technology to identify all base elements and percent of makeup. Some components may be acid-etch decapsulated to expose the die for positive verification — matching the base number and manufacturer's logo on the die to the part number and manufacturer printed on the surface of the chip.
For fast, non-invasive component authentication and quality screening, SMT uses Glenbrook's JewelBox 90T real-time x-ray inspection system. "The Jewelbox 90T allows us to quickly view a complete component image in order to verify die size, die location, wire bond pattern and internal lead characteristics that are specific to a particular manufacturer's product type," says Tom Sharpe, vice president.
"We can then compare this image to the component manufacturer's data sheet and against our ever-growing library of verified component images. The dual monitors that we have mounted on the side of our Jewelbox 90T allow for immediate, side-by-side comparative analysis."
"This system is so versatile that it allows for single layer inspection of factory packaged tubes and trays without breaking the vacuum seal and removing them from their bags or boxes — this feature is especially useful when inspecting multi-package lots of the same part number after carefully verifying the authenticity of the first package of components. The 6-axis joystick movement coupled with the ultra-high resolution enables us to clearly view literally every angle we could possibly want to see."
In addition, Sharpe notes, "we are currently working on a modification to the system that will allow for quick inspection of every component on a reel — without removing the components from the carrier tape."
Counterfeit electronic components have been around for several decades "to some degree," he explains, "but the problem grew worse in the late 1990's when the tech-sector's manufacturing levels out-stripped the chip manufacturer's ability to keep up with such sustained high demand. Thousands of different components went on long-lead-time factory allocations. Even penny-part, common resistors and capacitors were in extremely short supply. This industry-wide component shortage gave way to a drastic rise in counterfeit product entering the global market — with the large majority of this product coming from China."
While more expensive parts are more likely to be counterfeited, for obvious reasons, Sharpe says he has seen counterfeit product even among inexpensive passive and discrete component types. And although the economy has cooled and the pace of the electronics industry has slowed in recent years, counterfeiting seems to have escalated during that same time. This increase is undoubtedly due to the vast growth of Asian economies.
The worldwide market in counterfeit electronic components is a difficult one to quantify. In 2007, the U.S. Department of Homeland Security reported seizing nearly $200 million in counterfeit goods of all types — with consumer electronics, computers and hardware and "all other commodities" accounting for 20 percent of that total, and listed China as the source of 80 percent of all counterfeit products.
A U.S. Chamber of Commerce estimate finds that the global market for counterfeit electronics may be as large as $10 billion. While components themselves constitute an unknown portion of those totals, their impact can be magnified when they reach the end-user — causing everything from the hassle of replacing a defective cell phone to major liability issues when some critical mechanism fails.
Even NASA has had to deal with what it terms "the threat of counterfeit components." An abstract from the Jet Propulsion Laboratory calls the problem "pervasive and increasing," and recommends a number of measures, including non-destructive evaluation, to minimize the risk.
Also at risk, of course, are the reputations of those who supply components — particularly independent distributors. They fill a critical role in a complex, fast-moving supply chain — purchasing excess inventory, responding to shortages, balancing demand and bringing flexibility to the marketplace. SMT alone maintains more than 100,000 line items in stock and makes thousands of component sales each month to a large customer base which includes many US Fortune 100 and 500 companies, OEM's, CM's and hundreds of other franchised and non-franchised component distributors worldwide.
"With counterfeiting techniques becoming more refined and difficult to spot, the responsibility to identify them sits squarely on the shoulders of the truly quality-minded independent distributors," Sharpe states. "It is our job to protect our customers by back-stopping this material before it makes it into the hands of the end users. In order to detect counterfeit material reliably in today's marketplace, independent distributors must invest heavily in hi-tech component testing and screening equipment, robust QC processes and well-trained, IDEA-certified, component inspection personnel." He calls such investment "a necessity to being a responsible, quality supplier."
Sharpe has been a board member of IDEA (Independent Distributors of Electronics Association) since the group was founded in 2003. The non-profit trade association represents "quality and ethically oriented independent distributors of electronic components" according to its web site, www.idofea.org. Its selective membership has "a vested interest in maintaining verification of product," Sharpe notes.
Although SMT receives parts "from a wide variety of trusted sources," Sharpe cautions that it also maintains a "long black list of companies we won't do business with, because of poor product quality history with us or other quality distributors and organizations that we share such data with." But even when they come from trusted sources, incoming components are subject to rigorous scrutiny and may be rejected for a variety of reasons — poor packaging and handling, physical condition, traceability issues or failure to pass any one of several QC inspections, including real-time x-ray.
Sharpe describes Glenbrook's JewelBox 90T, with geometric magnification up to 500x and electronic magnification up to 2000x, as "fantastic." He selected it about a year ago, for several reasons. "It met my specific needs for image capability" and, with anode voltage of 90kV, "the power factor for in-depth resolution" was a key factor.
He also "wanted something time-tested," and Glenbrook met those criteria: "They have been in business for a long time, they are a U.S. company and they provide full field service and support. I personally spoke to three of Glenbrook's customers, and all of them were extremely happy with their equipment."
A tour of Glenbrook's New Jersey facility with Gil Zweig, company president, clinched the deal. "I was impressed with what I saw," Sharpe said. "I like to see a facility for myself. Web sites can always look good."
In SMT's facility, where operators have found the JewelBox 90T easy to use, the system has become an essential tool in the company's quality assurance program. It has also proven to be a versatile marketing tool, enhancing service to existing customers and helping attract some new ones. In addition, it helps support SMT's product verification service, creating yet another revenue stream.
Along with monitoring incoming parts for counterfeit detection, SMT uses the JewelBox 90T to check for component defects such as open wire bond connections, BGA solder ball attachment, ESD damage and signs of delamination. The fact that many inspections can be conducted without removing the components from the packaging helps maintain their integrity through warehousing and transit to the customer.
But before components leave SMT, they have to go through another round of inspection to ensure that they continue to meet the company's, and the customer's, quality standards. At a customer's request, outgoing shipments can be accompanied by documents that include x-ray images, die-identification photos and RoHS test reports, "to show we've done our due diligence," Sharpe says.
"The independent distributor who wants to compete and still be here years down the road needs to make significant investments in QC equipment, processes and well trained inspection staff," he states. "If you talk the talk, you'd better walk the walk."; For that reason, Sharpe believes "it's to the benefit of all that x-ray is used in the process, for complete component screening and verification. I expect to see this equipment become a standard part of every distributor's process."
For SMT Corporation, Glenbrook's JewelBox 90T has already become just that — a standard part of the company's QC process to help verify the authenticity and quality of the many thousands of electronic components that pass through its doors every month.
For more information, contact sales@glenbrooktech.com
Related posts